CHEVAL23 // STREET ART BLOG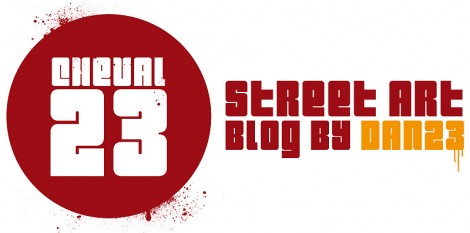 WWW.CHEVAL23.NET

A L'INSTAR DE LA RADIO QUI A DÉMOCRATISÉE LA MUSIQUE, INTERNET A OUVERT LA VOIE À L'AUTONOMIE DE L'ARTISTE ET LA DIFFUSION DE SON TRAVAIL. IL EST DEVENU UN OUTIL FONDAMENTAL DANS LA DIFFUSION DU MOUVEMENT CULTUREL STREET ART. ACTIVISTE ET FERVENT DÉFENSEUR DE CETTE CULTURE, CHEVAL23 ME PERMET DE DÉVOILER UNE SÉLECTION D'ARTISTES QUE J'AFFECTIONNE POUR LA QUALITÉ DE LEURS CRÉATIONS ET QUI CONTRIBUENT À DÉMOCRATISER L'ART, À RENDRE NOS VILLES PLUS AGRÉABLES À VIVRE. CE SITE WEB EST UNE SOURCE D'INFORMATION CONSTAMMENT MIS À JOUR.

LIKE THE RADIO DEMOCRATIZED MUSIC, INTERNET HAS GIVEN THE ARTIST AUTONOMY AND FULL CONTROL OF HIS WORK. IT HAS BECOME A FUNDAMENTAL TOOL IN THE STREET ART MOVEMENT. AN ACTIVIST AND PASSIONATE DEFENDER OF THE CULTURE, CHEVAL23 ALLOWS ME TO DISCLOSE A SELECTION OF ARTISTS I ADMIRE FOR THE QUALITY OF THEIR CREATIONS AND FOR HOW THEY CONTRIBUTE TO THE DEMOCRATIZATION OF ART, MAKING OUR CITIES BETTER PLACES TO LIVE. THIS WEBSITE IS A SOURCE OF INFORMATION CONSTANTLY UPDATED.